61cm / 24" High Handmade Carpeted Wood Pet Ramp with High Sides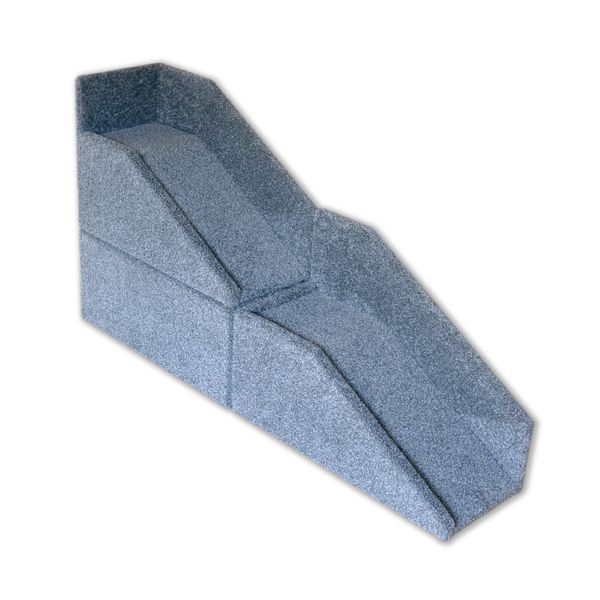 61cm / 24" High Handmade Carpeted Wood Pet Ramp with High Sides
Our handmade carpeted pet ramps are designed to allow your dog, cat or even house rabbit easy access to your sofa or bed. Created in all new materials and beautifully carpeted, our handmade pet ramps are sturdy yet lightweight and portable and will make the perfect accessory for your pet and addition to your home. We have a range of standard sized pet ramps or we can custom make a ramp to your individual size, design or colour.
Benefits
Ideal for dogs, cats and even house rabbits

Perfect for elderly pets with restricted mobility or strength

Great for pets recovering from surgery or injury

High sides keep paws firmly on the ramp

Sturdy, lightweight and portable design

Suitable for dogs up to 60kg in weight

No more back-jarring leaps which may lead to costly vet bills

Gradual incline ramp for ease of use.

A choice of five carpet colours

Twisted pile carpet prevents claws from catching while providing additional grip

Four heights and three widths to choose

Challenge us to make a bespoke size or design. Take a look at our Custom Designs page for some inspiration.

Specifications
Handmade to order

All new materials

Strong and sturdy wood construction

Joints glued and screwed for strength

Quality household carpet is glued and stapled for durability

Every Tale Has a Beginning
Our recent family addition, 'Archie' the Dachshund, has found it very frustrating that he never gets the best seat in the house and the size of his legs (shh! don't tell him, he thinks he's a Great Dane) means that he can't climb onto the sofa to watch his favourite TV shows, 'Dachshund Abbey' and 'Silent Woofness' (sorry!)
To make it easier for Archie we decided to build him a ramp. After a little tempting with some tasty treats and once he'd realised he wasn't being made to take part in a crazy indoor carpeted ski jump contest, Archie can now climb up when he's looking for some comfy sofa time and likes to slide back down on his belly when it's time for food (a strict diet of German sausages of course).
If you have a vertically challenged hound or perhaps a cat who is far too dignified to leap up on anything then perhaps you'd both like a ramp to make the route to your lap a far simpler and safer one.
Dimensions
Made in four different heights and three widths, our pet ramps are designed to fit your pet and the furniture in your home. Our tallest ramp was created to Nathasha's specifications to ease Deena the Dachshund's path to bedtime. This is ideal for high beds or low windowsills. Designed in three sections that can be placed in a straight line or angled to take less space. Two raised bars on top of the rear section ensure the high ramp stays in place.

Height: 24" (61cm)

Length: 61" (156cm)
Width: Either 12" (30cm) for cats and small dogs, 15" (38cm) for medium dogs or 18" (46cm) for large dogs
The high sides extend 6" (15cm) higher than the ramp height stated above for our 12" (30cm) wide ramps, 8" (20cm) for our 15" (38cm) wide ramps and 10" (25cm) for our 18" (46cm) wide ramps.
Gradient
Most pet steps and ramps available to buy have a climbing gradient of between 37 and 56 degrees. They're made this way to take as little space as possible. This does however sacrifice the comfort of your pet and with continued use may lead to greater strain being placed on their joints.
Each of our pet ramps has a gradient of 30 degrees which is towards the lower end of UK staircase design guidelines (30 to 45 degrees). This is ideal for the majority of pets. If you do however think your pet would benefit from an even gentler gradient then please contact us before placing an order and we'll let you know the difference this would make to the ramp length and price. 
To get an idea of the 30 degree gradient, take a tape measure and measure up the front of your sofa or bed to a height of 12" (30cm) and then from that point measure diagonally down to the floor to a distance of 21" (53cm).
Colour
Each pet ramp is covered in quality household carpet to help blend with your decor. The deep twisted pile has been specially chosen to prevent claws from becoming trapped whilst providing essential additional grip during use. Your only decision is which of the five colours to choose. If you're struggling to decide on a colour then we can send carpet samples free of charge.
Bespoke Service
If our standard ramp design or size doesn't quite fit the bill then we can help to bring your own design to life. Send us a message with your idea and we'll get ramp designing.
Optional Additions
We have a range of options to customize your ramp. If you'd like to choose any or all of these then please contact us after placing your order and we'll let you know of any additional cost.
Why not mix and match the carpet. We can create your ramp at no extra cost in two of our carpet colours. Just choose one colour when placing your order and contact us afterwards to tell us you'd like to go bold!
Add your pet's name to their ramp with a beautifully carved wood name plaque.
Why not go for an open-sided ramp and give your pet a cosy place to hide away. We can cut away one or both sides ramp and line the underneath in matching or contrasting carpet of your choice.
Reviews
Bianca & Boo
We received your ramp this morning and couldn't be happier (and neither could Boo). The ramp is extremely well made, perfect size for our bed and matches our carpet exactly. Thank you for the quick service, communication and amazing product.
Caroline & Casper
I think the ramp is lovely and much more elegant than the ones I've made.
Gary & Dash
Just a quick message to say the ramp arrived and is fantastic. Very high quality and sturdy. A real piece of quality workmanship.
Payment

Payment via PayPal, credit or debit card is required to place your order. If you've sent a message to request a custom designed ramp then we'll work together on the design and then send you details of the price so you can decide if you'd like to go ahead.
Reviews